Gulf Coast Jazz Collective needs you!
Do you want to show off your music talents?

Join the Jazz Collective on stage in the upcoming Jazz at the MACC: Jazz Jam concert on May 18.
Enjoy an "Open Mic Night Jam" Join them onstage and play different jazz standards. Not a musician?
Thats Fine! Grab your friends and come and show your support from the audience!

SUBMIT HERE

Watch video from last years Jazz Jam!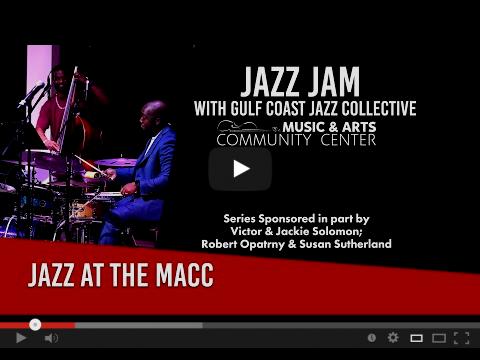 JAZZ AT THE MACC:
Jazz Jam May 18 | 7:00
Music & Arts Community Center
13411 Shire Ln, Fort Myers

Get your tickets!

BUY TICKETS

Once again we are turning the MACC into a hopping New York City Jazz Club with another Jazz Jam!
What happens when you invite 20 area musicians, young and old, some who have never even heard each
other's names before to play music together spontaneously? An evening of unexpected turns and musical
excitement that can't be repeated. Throughout the night different combinations of musicians will be invited
onto the stage to play Jazz standards together to the delight of our audience. We're looking forward to
presenting another amazing night of improvisation, spontaneity, and swing!

Gulf Coast Jazz Collective


PAUL GAVIN Drums, Director of Gulf Coast Jazz Collective
Paul Gavin is a Drummer, Teacher, Composer & Arranger in Tampa, FL. Since graduating from the
University of South Florida in 2015 Paul has made his living exclusively as a freelance musician.

MORE INFO



BRANDON ROBERTSON Bass
In 2009, he graduated from Florida State University with a Bachelor of Arts in Music with a focus
on Jazz Studies. In the same year, Brandon became a member of the popular Florida-based jazz trio
The Zach Bartholomew Trio.

MORE INFO



ZACH BARTHOLOMEW Piano
Dr. Zach Bartholomew is an award-winning jazz pianist, composer, and music educator. He is currently
based in Miami, FL where he maintains an active performance career as one of the most heavily
sought-after pianists, accompanists, and sidemen in the area.

MORE INFO

Series Sponsored in part by
Victor & Jackie Solomon,
Robert Opatrny & Susan Sutherland

239.277.1700 | GulfCoastSymphony.org